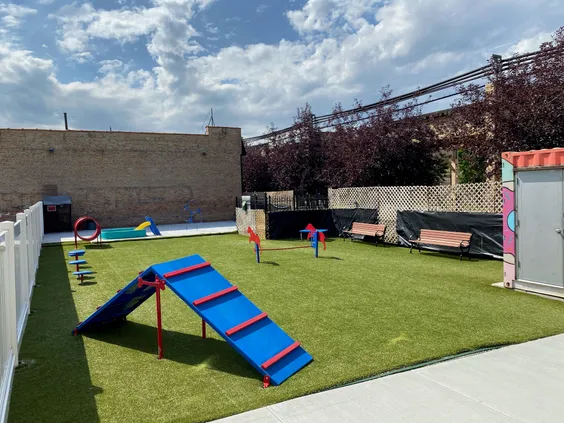 At Payton's Playground our goal is to foster an environment that keeps you and your pup engaged. We pride ourselves on being Chicago's first outdoor Dog Park Café. Payton's Playground is very different than your average Chicago dog park because it is membership based so you can rest assured that each pup on site has been temperament tested and is up to date on vaccines. Upon registration each pet parent goes through an orientation session, so they are aware of what's expected of them as well as do's and don'ts of a dog park and proper etiquette. Payton's Playground will host training demonstrations, breed specific play dates, mobile vet days and so much more. Let's not forget the coffee shop! The days of making two stops or tethering your pup outside while you run into grab a latte are over. For your convenience we have two walk up windows one accessible from inside the park and one street side for those dog free days that your craving a cup of our joe. Payton's Playground is open 6am to 10pm every day of the week. More importantly Payton's playground does not rely on mother nature to clean the park. The park is upkept daily and deep cleaned weekly.
Why choose Payton's Playground?
Our park consists of members only and each dog has been assessed and has submitted proof that they are up to date on vaccines and fecal.
Mother nature isn't the only one who cleans this park a staff member ensures it is upkept daily and deep cleaned each week.
How to become a member?
You must fill out the pre questionnaire online, upload or email proof of vaccines and results of fecal test
Sign up for an orientation day (Dates vary due to Covid-19) (These are typically done every Wednesday at 6 p.m and the 2nd Saturday of each month at 10 a.m .)
Orientation consist of a 30-minute video. Signing the proper waivers and release fill out the proper paperwork, and paying the $65 registration fee
Monthly fee $39 first pet $29 any additional pets in the same household (Bio metric access)
Annual fee $299.00 (e-key access)
Daily fee $8 each dog (single use access code)
To fill out an application for membership Click here
---
PAYTON'S PLAYGROUND MEMBERSHIP RULES & ETIQUETTE
This is a self-governed dog park however we ask that everyone be respectful to each other and all pups to ensure this remains a harmonious environment.
Only members are allowed any guests must be accompanied by the member.
Only one gate should be open at a time.
All dogs should be leashed and unleashed in the gated entry corridor.
You must pick up after your dog.
Each member is responsible for his or her pet.
Do NOT allow anyone into the space that is not a member.
Please do not allow excessive barking
This park may not be used for commercial or private use or gain by any trainers, dog walkers etc. No activities or events of any type may be conducted without the expressed written consent of PupStars.
A dog should never be tied to a fence or bench.
Drinks are ok but no open food or treats of any kind are permitted in the ACTIVE play area.
No smoking or alcohol permitted.
Only member pets on your profile are allowed in the park.
Your pet must be spayed or neutered by 6 months.
Limit of 2 dogs per person per visit.
Do not bring your dog to the park if he or she is feeling ill or has had vomiting or diarrhea in the last 24 hours.
All children must be accompanied and closely supervised by an adult.
No children under 11 are permitted.
You are responsible for your guests.
No outside toys are permitted.
For your safety members must strictly protect the confidentiality of park access and its codes.
We are NOT responsible for any child, dog, or adult getting hurt at the dog park you enter at your own risk.
Management has the right to revoke membership at any time without explanation.
Members have the right to cancel the membership at anytime.
Your membership may be revoked or suspended if you get 3 strikes
(Strikes are the disregard for any of the park's rules)

*Vaccines or fecal out of date
*Non payment
*Bringing a sick dog to the park
*Allowing your pet to constantly bully other pups
*Allowing a nonmember dog to utilize the park
*The inability to control your dog
*Multiple reports from fellow members of ongoing issues